Saturday, February 11
9am:  4 x 4 Truck Races
9am:  Breezy Hill Alpaca Farm at Shepard Park
9am: ATV Scavenger Hunt/Poker Run at Duffy's Tavern
11am: Human Foosball Tournament at Duffy's Tavern
11am-6pm:  Love is in the Air!  Valentines Wine Tasting Weekend at Adirondack Winery
11am – 2pm:  ATV Wagon Rides in front of Duffy's Deli
12 – 1pm:  Zumba Camp at King Neptune's Pub
12 – 2pm: Open Mic at Shepard Park Amphitheater
12 – 3pm: Children's Activities at King Neptune's Pub and Courtyard Marriott
12 – 3pm:  Face Painting at King Neptune's Restaurant
12 – 3pm: Pony Rides at Shepard Park
12:00pm: BBQ Cook-off at Shepard Park Amphitheater
2pm: Lake George Dog's Got Talent Show at Shepard Park
3pm-5pm: Valentine's Dog Photos at The Dog Cabin behind Gino & Tony's Restaurant
3pm: Polar Plunge at Shepard Park Beach
4pm: Make S'mores at the Beach
4 – 6pm:  Hot Chocolate Bar at Shepard Park Beach
6:00pm: Fireworks
Sunday, February 12
9am:  Breezy Hill Alpaca Farm at Shepard Park
11am: Human Foosball Tournament at Duffy's Tavern
11am-12pm: Detox & Retox: Yoga in the Barrel Room at Adirondack Pub & Brewery
11am-5pm:  Love is in the Air!  Valentines Wine Tasting Weekend at Adirondack Winery
11am – 2pm:  ATV Wagon Rides in front of Duffy's Deli
11:30am: Make Your Own Sundae with Stewart's
12 – 3pm: Children's Activities at King Neptune's Pub and Courtyard Marriott
12 – 3pm:  Face Painting at King Neptune's Restaurant
12 – 3pm: Pony Rides at Shepard Park
2pm: Lake George Dog's Got Talent Show at Shepard Park
3pm: Polar Plunge at Shepard Park Beach
4pm: Make S'mores at the Beach
---

Thursday, February 9 at 7:00pm
Glens Falls Civic Center
The World Famous Harlem Globetrotters combine athleticism with showmanship entertaining audiences of all ages!  Over the years, the Trotters have performed more than 26,000 times in 122 countries!  Here's your chance to see them in person.
---

Friday, February 10 from 3-9pm
Gore Mountain
A full moon party to celebrate winter and everything it has to offer!  Enjoy discounts on lift tickets, guided snowshoe treks, discounted ski lessons, games, crafts, live music and food.  For a complete list of activities click here!
---

Friday, February 10 from 4-10pm & Saturday, February 11 from 2-10pm
Fort William Henry Hotel & Conference Center
Have a drink, warm up by  a bonfire, and enjoy winter.  Special hot chocolate drinks, chili, and homemade soups.  The Tankard Taverne restaurant will also be open serving a full dinner menu!
---

Friday – Monday, February 10 – 13 at 4:00pm
King Neptune's Pub
Just in time for Winter Carnival, Neptune's, in the middle of the Lake George Village, is opening their ice lounge.  Overlooking Lake George, the lounge is the perfect spot to stop for a drink and some live music.
---
Friday, February 10 from 5-8pm
LARAC Gallery
A collection of works by regional artists that explores the relationships between colors with paint as the medium of choice.  Featuring the work of Jenny Hutchinson, Stephanie Serpick, Amanda Kralovic, William L. Doebele and Elisa Sheehan.
---

Friday – Sunday, February 10-12 at 5:00pm
Lake George Beach Club
The newly opened Lake George Beach Club is joining in with the ice bar trend this weekend.  Located adjacent to Shepard Park, this ice bar will be easy to access from the heart of the Lake George Winter Carnival.
---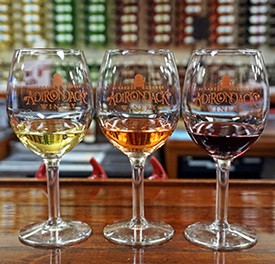 Friday, February 10 from 7-9pm
Adirondack Winery
Join us for a fun night out at the Tasting Room this Valentine's Day Weekend!  Whether you're an experienced wine drinker or entering the world of wine for the first time, join us as we get down to the basics of wine blending!
---
Saturday, February 11 from 7am – 8pm
Queensbury Hotel
All-Day Health and Yoga Expo.  Yoga classes throughout the day,  vendors, beginner yoga and health information.  $65 per person with free yoga mat and t-shirt.  Proceeds benefit the Double H Ranch in its work to provide specialized programs and year-round support for children and their families dealing with life-threatening illnesses.
---

Saturday & Sunday, February 11 & 12 from 8:30am – 3:30pm
Gore Mountain
Welcoming intermediate and advanced skiers to participate in one or two day clinics to explore new terrain, overcome your fears and push your skiing/riding to the next level!  Clinics include instruction, video analysis, indoor discussions, breakfast, lunch, afternoon parties and plenty of time on the slopes!
---
Saturday & Sunday, February 11 & 12 from 9am – 4pm
Adirondack Folk School
This course will introduce students to the traditional craft of chip carving – a type of woodcarving in which a small knife is used to incise decorative floral and geometric designs into basswood or butternut. Some previous carving experience is helpful, but not necessary.
---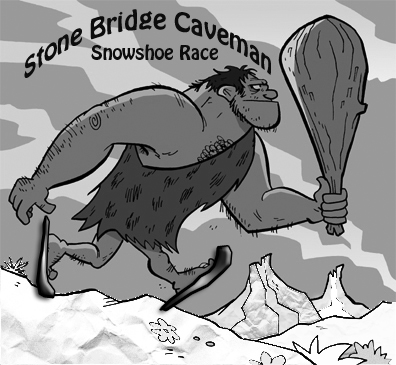 Saturday, February 11 at 10:00am
Natural Stone Bridge & Caves Park
Natural Stone Bridge and Caves Park joins the DION WMAC Snowshoe Series this year with a 6K race.  Runners will enjoy views of Trout Brook, the southern Adirondacks from the top of Catamount, dark hemlock forest groves, and even cartoons from Gary Larson on "The Far Side" trail.  Starting at 990 feet elevation, the race climbs up to 1445 just before the half way mark and then back down – with several flats.
---

Saturday, February 11 from 10am – 2pm
Caldwell-Lake George Library
Peruse the stacks of books for sale every Second Saturday at the Caldwell-Lake George library right in the heart of Lake George Village.
---
Saturday, February 11 at 1:00pm
Up Yonda Farm
Experience snowshoeing at Up Yonda Farm during a guided hike.  After a brief look at the techniques of the sport, visitors will hit the trails.  The property is home to many species of animals so expect to see a variety of tracks.  The fee includes a snowshoe rental.  If snow cover is inadequate for snowshoeing, we'll do a hike.
---
Saturday, February 11 from 3:00 – 8:00 PM
The Inn at Erlowest
Come out and experience Lake George from the Erlowest fire place patio, courtyard and terrace while enjoying fire bars, signature cocktails, s'more station and delicious food prepared by Executive Chef Adam Padilla.  Local restaurants will offer beverage and food samples in the Erlowest Ballroom while live music plays.  A portion of all proceeds will be donated to the Lake George Region for Women in Need local charity. Come warm up at Erlowest this winter season while giving back to those in need.
---

Saturday, February 11 from 5 – 11pm
Dunham's Bay Resort
Treat your sweetheart to dinner followed by an evening of comedy featuring Lauren Turczak and Improv Team Isaccs & Baker.  Overnight Packages with Dinner & Show Available.
---

Saturday, February 11 at 6:30pm
Up Yonda Farm
Get a workout at Up Yonda Farm with a guided snowshoe hike than head to Bolton Landing and crawl from restaurant to restaurant enjoying the specials at each!  Sponsored by the Bolton Landing Chamber of Commerce.
---

Saturday, February 11 from 5-10pm
Sweet Basil Restaurant
Grab your date and head to Sweet Basil for the fifth annual Cupid for a Cause dance.  Photo booth, thousands of dollars in raffle and auction items and full dinner is included.  Only 18 and over please.  Tickets are $30 in advance and $35 at the door.  Proceeds benefit Lending Hearts & Hands, a non-profit dedicated to supporting and assisting local people diagnosed with cancer.
---
Saturday, February 11 from 6:30 – 8:30pm
Garnet Hill Lodge
Grab your gear (don't forget your headlamp!) and head to North River for an Adirondack winter experience you won't want to miss.  With a crisp bite to the air, you'll hike along the wooded moonlit trails and end back at the Lodge for sweet and savory fondues. It's an evening of fun for everyone!
---
Sunday, February 12 from 9am – 12pm
Adirondack Folk School
Students will have a variety of patterns and colors to choose from. They will use the pattern to warp an inkle loom to create a colorful band that can be used for trim, a strap or a belt. No prior experience is necessary. Students as young as 10 years old are welcome to join in.
---

Sunday, February 12 at 12:00pm
The Hyde Collection
Allen Blagden, a distinguished American contemporary realist painter, is renowned for his paintings of birds, animals, and people, as well as the landscapes of New England and the Adirondacks. Blagden's exhibition includes approximately 50 works, mostly watercolors, which survey his distinguished career.
---

Sunday, February 12 at 12:00pm
Gore Mountain
It's a family-oriented freestyle competition, especially for ages 10 & under!  Judged by the Gore Mountain terrain park crew on Jibland, with small boxes, rails, and jibs made for kids.  All prizes will be raffle-style following the fest, with some special awards for outstanding performance and honorable mentions.
---

Sunday, February 12 at 3:00pm
Glens Falls Civic Center
Catch the Adirondack Thunder as they face off against the Manchester Monarchs in a fast-paced, thrilling hockey game at the Glens Falls Civic Center!
---
---